"Arise and go down to the potter's house, and there I will cause you to hear My words" - Jeremiah 18:2

Welcome


The Potters House Christian Fellowship Church of Henderson is a Bible based, Spirit filled, nondenominational church with a master passion to share the good news of Jesus Christ. Worship services are contemporary in a casual environment where you'll hear relevant messages you can apply to everyday life. Here you will enjoy the family-friendly atmosphere of many who come together for Hope in Christ. This is a place for all ages and all people. Our warm, friendly congregation have been serving the Henderson, Nevada area for more than 5 years. We invite you and all your family to come and experience the love of God like many others have.

Please take the time and browse around and we hope to here from you soon.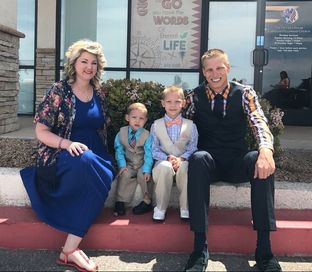 Our Pastor
Pastor Jonah Link and his Family


---
Who we are

The Potters House Christian Fellowship Church of Henderson is united together with a worldwide fellowship of churches that are reaching the world for Jesus Christ. In the past 40 years our Fellowship has grown to more than 1,800 Fellowship Churches into 125 countries. This work of God started with a humble desire of Pastor Wayman Mitchell. (Senior Pastor of the Potters House Christian Church in Prescott, Arizona) His desire was to put into practice the principles of discipleship, evangelism and church planting.

Our Vision

We take seriously Christ's commission to "Go into all the world and preach the gospel to every creature." Therefore, our vision as a Fellowship has always been to fulfill Christ's Great Commission through Evangelism, Discipleship and Church Planting both Domestically and Internationally. It was Christ Himself who commanded His followers to "make disciples of all the nations," and the simple obedience to this command is the passion and driving force of our church.

With this focus, we are constantly endeavoring to reach unsaved and un-churched people with the gospel of Jesus Christ, and to spread the good news of God's love and saving grace throughout the world. We do this through the work of the local church. Whether we use Christian bands, movies, dramas, street preaching or door-to-door evangelism... Our focus, vision and mission is to help lead people into their own personal and saving relationship with the Savior Jesus Christ.




---